Replacement Show Ideas For Hannah Montana
A wave of sadness swept over America's youth today with the announcement that the next season of Miley Cyrus' Hannah Montana will be the last for the Disney mega-tween-hit. No word yet on whether or not President Obama plans to address the nation's schoolchildren to comfort and provide general guidance to them as to how to spend their Sunday evenings in the absence of the show.
But perhaps more importantly, how in the world will Disney manage to replace this gaping hole in the lineup? Here are a few ideas:
Selena Gomez moves over from Waverly Place to star as "Jesse", an innocent country girl with a perfect home schooling attendance record whose single-mom is forced to move them to the city, into a sublet apartment right next door to wild teen, "James", portrayed by Nick Jonas.
In the pilot, Jesse learns that James is fronting with his party boy image, as he secretly wears a purity necklace that just so happens to match Jesse's ring. The two cute neighbors go out on a series of different crazy dates that end with nothing more than a peck on the cheek and awkward feelings of shame and desire.
The GaGa Girls Club is a groundbreaking series revolving around a group of five, eighth grade girls who employ the lyrics of Lady GaGa songs as reference for how to handle difficult situations in their pubescent lives.
In the first episode, "K.C.", the nerdy science girl, experiences her first boy-crush on Dylan, an idiot boy who is super lame and not nice to her.  K.C.'s GaGa Girls Club pals remind her:
Rah-rah-ah-ah-ah-ah!
Roma-roma-mamaa!
Ga-ga-ooh-la-la!
K.C. gets their point and blows up Dylan's stupid locker with a chemical bomb.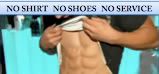 In an effort to raise money for a deserving children's charity, high school senior and star football wide-receiver "Billy Tompkins", portrayed by Twilight actor, Taylor Lautner, vows to forgo wearing a shirt or shoes for the entire school year.  Hilarity ensues as Billy takes his Algebra tests, eats lunch in the cafeteria, and even plays an entire game of football completely topless.
The show has yet to be filmed but eleven thousand girls have already passed out just imagining what it might look like.