The Poetry of Tila Tequila's Twitter-Based Eulogies
It's been a long, rough week for bi-reality-hookup, Tila Tequila. First, the tragic loss of her "WIFEY", Casey Johnson. Then, Tila was assaulted from all corners of the blogosphere and heiress-sphere as she grieved the only way she knew how: via Twitter.
We've assembled a random collection of one-line snippets from Tila's past week of tweets, arranged into stanzas, to form a Tweet-verse to help bring expression to Tila's emotions.
(please note that this poem contains original, graphic language that may not be suitable for young children or Tila's new in-laws.)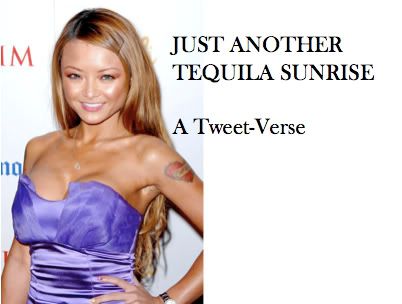 Umm excuse me to the happy c*ckblockers!
I have AMAZING NEWS 2 SHARE W/U!!!
ARE U READY YET?hehe
Cuz u know when I go INNN, I GO INNNN!
I need to f*cking get outta here
My Wifey is in Heaven Laughing Her Ass Off
They already killed the dog.
DONT TAKE THE BUNNY I WANT!!!!
Why is Piggy C**tface Perez constantly bad mouthing my late Fiance??
BITCH PLEASE!
Please stop with the NEGATIVE
Just cuz ur rich does not give u a right to act like a SPOILED C**T BRAT!
Now Onyx is depressed
Im gonna snuggle with Onyx now.
Put them to Sleep So to Burry the Dogs with Casey!
blah blah blah. f**k media.
They did NOT like lesbians.
the pure evil that is Nikky, Bijou & some other ppl
JUICY SECRETS!!!!!!!!
LESBIAN MARRIAGE. Not accepted

"IT'S A VIRUS! DONT OPEN IT! EWWWWW!"
Bitch better run
I'll follow you in your river of tears
I can take a piss, I can have milk in my cereal
cuz one minute Im so happy
I have my business shit on lock & very savvy.
YAYY I MISSED FEELING THIS WAY SOOOOO MUCH! WEEEE!
I just ate a banana tho!
My Wifey would have wanted that.
she wanted MY last name
So f**k off!
I'm getting off now
They threatened Larry King w/Lawsuit!
F**king heartless bitches
YOU WANT TO PLAY DIRTY WITH ME? OHHH OK. I WILL PLAY DIRTY TOO!
RIP CASEY NGUYEN…
RIP my Angel.
That's the last I will speak of this
Meet me in the Grape Soda Waterfalls in my dream