Humpday Roundup: Kate Bosworth and Alexander Skarsgard — Are They or Aren't They?
For many, Humpday signifies the middle of the workweek, when we're exactly halfway between the memories (and mistakes) we made last weekend and the ones we'll make next. But here at Celebuzz, Humpday means that Colin Goldman, our resident Celebrity Hookup Enthusiast (who actually knows next to nothing about legit celebrity love news) sets his mind to wondering — Are They or Aren't They?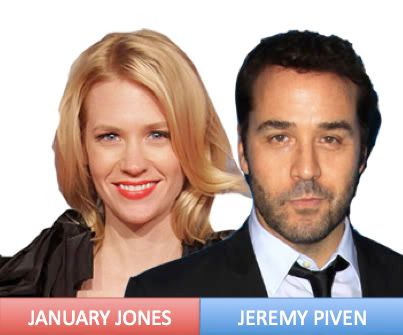 He, the hair-piece on-again off-again A.D.D. agent from Entourage. She, Mad Men's strikingly sharp housewife with the monthly moniker.  Jeremy Piven and January Jones were caught discreetly dashing off from a Golden Globes afterparty this past Sunday night.  Does this strategic streak indicate that something is afoot in the land of boots and butter?  Or is this merely a gentlemanly escort in the tradition of, well, not something out of recent Hollywood? 
Verdict:  The true gentleman in Hollywood is so hard to find… there was likely a quick humping involved, followed by endless remorse.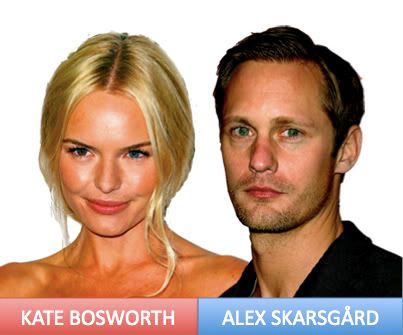 She, the seven-stone waif oft on Hollywood's hottie hotlist. He, the hickey-hunky bloodsucker from True Blood that leaves the girls feeling faint. Kate Bosworth and Alexander Skarsgard have been seen smiling and cavorting since last Fall, culminating in what some writers have boldly referred to as a "public display of affection" at this past weekend's Golden Globes. Do the Rules of Attraction necessitate that this 'rexy starlet and sexy bloodletter are getting it on?
Verdict:  No nada nada. This couple is pure dog and pony show for the press. Sorry.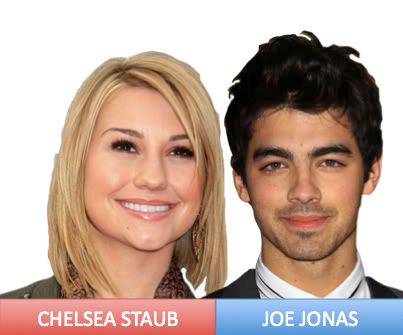 Is there anything more adorable than a fluffy puppy sleeping in a basket of blankets?  Aye, and his name is Joe Jonas. The difference being that its hard to forget about the puppy, while Joe seems to be the forgotten member of the almighty Jonas Brother trio these days, what with big brother Kevin losing his purity nugget and little brother Nick forming his own band and pretending to be straight. Nevertheless, Joe has been spotted with former gal-pal Chelsea Staub, of Chelsea Staub fame recently, acting "cozy" according to some onlookers. Let's face it, "cozy" is but one snuggle-step away from "canoodling".
Verdict:  Just light petting, above the scapula.
Oh, Jen, Jen, Jen, Jen. Always the bed maid, never the bedded. The most misunderstood Hollywood spinster in the history of such a category, if such a category even exists. The latest Tinsel Town innuendo matching Jen Aniston with Gerard Butler, the co-star of her upcoming film, The Bounty Hunter.  How many times will we see stories of Jen "dating" her leading man, only to have these stories fade quickly after film release?  The answer — forever!  It will never end.  Could it be real this time?  Could she be running numbers with the hot, handsome, and hirsute star of 300 and a bunch of other films not as good?
Verdict:  This is quite simply too depressing to contemplate.