Humpday Roundup: Gerard Butler And Some Random Violinist — Are They or Aren't They?
For many, Humpday signifies the middle of the workweek, when we're exactly halfway between the memories (and mistakes) we made last weekend and the ones we'll make next. But here at Celebuzz, Humpday means that Colin Goldman, our resident Celebrity Hookup Enthusiast (who actually knows next to nothing about legit celebrity love news) sets his mind to wondering — Are They or Aren't They?
Today's edition of Humpday Roundup salutes the unidentified, random bar or outside bar hookup that both celebrities and mere mortals are prone to, from time to time.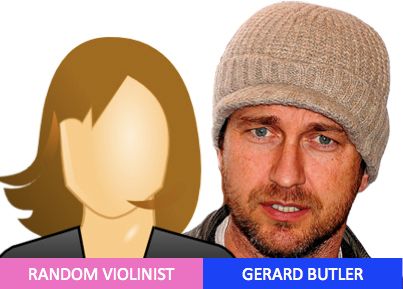 Rico suave A-lister, Gerard Butler could have his choice of ladies.  Last week's Roundup dispelled the silly, public relations-inspired rumor that he was dating co-star Jennifer Anniston.  That leaves the rest of the entire female population for Gerard to select his romantic interludes.  According to reports, the most recent was a random street musician in Venice Beach.  Gerard seemed to be two-tongues deep into the violinist's oral concerto when onlookers began snapping their phone cams.
Verdict:  300 ain't just the name of Gerard's most popular movie… humping.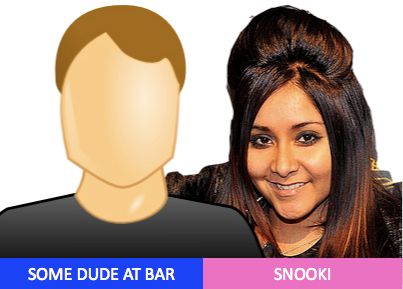 She, the backflippin', dance trippin', always be pimpin' south shore shorty with all the right moves.  He, some random dude at a bar that Snooki has now identified as none other than "Vinnie's cousin".  With Snooki's "little skirt flying way up her knees…", to quote a potentially once-sober Steven Tyler, and possibly Vinnie's cousin spotting the hookup opportunity of his young life, this seems like a match made in Jager shots.
Verdict:  The Situation comes and calls out maybe Vinnie's cousin before he gets too deep into Snooki's cookies.  Still, I'd put even money on outboard motorboating.
If you look up random hookup in the dictionary, no, you won't see a picture of LiLo, but you'll probably see her fingerprints on the page from looking up the word herself to describe her love life.  Most recently, this leggings-making-ginger-snapper was spotted outside a WeHo nightclub exchanging Herp1 with some random dude identified only as "some random dude".  Later, it was claimed to be some French actor, though nobody on scene could name a single French actor, or French film, so it was equally likely he was a hobo in between trains.
Verdict:  Forecasting Lindsay's affairs of the body is like predicting the weather, it's often better just to report the damage after the fact.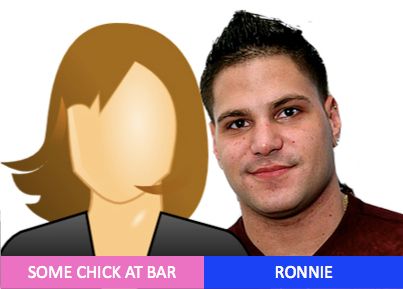 Another Jersey Shore hookup: a shocking revelation to be sure, a bar room hookup between Ronnie , aka Sammi's former boyfriend, and some random chick at the Dublin Down Tavern on Long-G Island, captured on random bar patron camera phone.  Oh, how modern technology is a true killer of romance. Still, as we approach St. Valentine's Day, we'd like to believe that random bar hookups still have a place in our hearts, in our world, and at the business end of Cupid's arrow.
Verdict:  Spit-swapping, chunk dropping, and a few moments of badonka donking, but, alas, no humping.