Taylor Swift, Inc.: The Corporate Branding of a Country Girl
The recent announcement that top-of-the-top music artist, Taylor Swift, will be releasing a series of self-branded greeting cards through a deal with American Greetings, Inc, reminds us that Taylor is much more than a cute, country girl with a sundress and her trusty guitar, she's a major, worldwide consumer brand.
From a sixteen-year-old country music prodigy releasing her first single, "Tim McGraw", to four years later, as the top selling music artist on the country and pop music scene, Taylor Swift is but the latest example of teen dreamer turned corporate mega-brand.
See if you recognize the not even old enough for her driver's license girl behind the steering wheel in this NASCAR product line advertisement:
THE RAPID RISE OF THE TAYLOR SWIFT BRAND

The upcoming Grammy's are certain to bring another round of accolades and awards to Swift, who in addition to cleaning up with trophies at all the major music awards shows, and fronting the cover of an endless series of fashion and lifestyle magazines, has also been the top selling music artist of the past two years, setting records for both hard copy and digital download sales.  Taylor's all-American good looks, family friendly persona, and reliably catchy songs and acoustic guitar riffs have put her front and center as the belle du jour and the ideal candidate to endorse and market products to millions of avid young fans.
While the release of her self-titled debut album put Taylor on the music industry map, it was the early 2008 release of record-sales-setting Fearless that turned her into a pop culture icon ready for the brand endorsement world.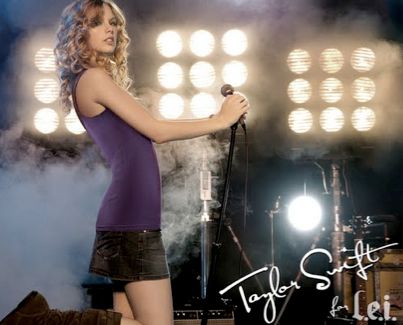 Taylor's first big brand merchandise deal came with her endorsement of the l.e.i. junior jeans brand of the multi-billion-dollar Jones Apparel Group, being front and center in the brand's Back to School fashion campaigns in the Summer of 2008.
"Taylor Swift perfectly exemplifies the spirit of L.e.i. – she has the authenticity, spirit, intelligence and wit of the modern American girl, and she is a role model for today's youth."

   — Jack Gross, Group C.E.O., Jeanswear Division for Jones Apparel Group.
The Swift endorsement deal was a big play for l.e.i., which had been one of the numerous "mall brand" of junior wear whose "trendiness" had long since faded, in part due to the closing of many malls themselves, through the decade of the 2000's.   Before moving into Walmart for the mass market consumers, Jones and l.e.i. looked to the biggest name they could find to promote the chicness of their product to millions of girls — Taylor Swift.
The l.e.i. deal with Walmart also established a relationship between Taylor Swift and the Walmart brand that continues strong to this day.  While the mega-box chain store has often been associated with inexpensive, mass-produced items and not the type of name brands a trendy teen girl would willingly wear, the Swift move was a signal that Walmart intended to up its rep through the use of celebrity-centered product lines.
As albums continued to move off store shelves, personal appearances continued to rack up, and the tabloids and gossip columns filled up with stories of dates with teen pop star Joe Jonas, and, later, Twilight movie series heartthrob actor, Taylor Lautner, numerous brand endorsement and licensed merchandise deals quickly followed.  In addition to the slew of typical licensed merchandise items — posters, calendars, school supplies — Taylor signed significant deals with Sony consumer electronics (utilizing their video products to document her life on the road), Comcast cable networks (for exclusive Video-On-Demand content), and Band Hero™.
More recently, Taylor Swift announced a line of her own greeting cards to be issued through major greeting card company, American Greetings.  Additionally, Swift continues her strong relationship with Walmart and released of a signature line of $14 sundresses through the boxstore outlets.
(Taylor will be launching a line of similar dresses worldwide through British retailer, Marks & Spencer in the near future.)
All-in-all, Forbes Magazine estimated that Taylor Swift, the big business entity, took in over $18 million between August 2008 and August 2009, though you can imagine that number will go up significantly in the current year.
ALL THE MONEY, BUT AT WHAT COST TO INTEGRITY?
While the dollars continue to roll-in from Taylor's numerous endorsement and licensing deals, what does this mean to the underlying likability and "trust" factor between the 20-year old music artist and her adoring fans?
Typically, pop music artists have been given a free pass by their fans for appearing in commercials promoting products that generally appeal to the fans themselves.  While Taylor's fans may not quite believe she wears low-cost jeans or fourteen-dollar dresses from Walmart, they are apt to believe that she has faith that those products are of decent design and style to be of benefit to her fans.
In fact, most of her product or media deals, tend to be couched in terminology as being of benefit to fans (and also to charities which Taylor Swift endorses.)
However, in this modern technological world, fans have come to expect more direct connection to their favorite celebrities and music artists.  There's a more personal, intimate line of communication between artist and fan via social networking sites such as Twitter and Facebook.  There's constant, first-person, immediate reporting of what celebrities are wearing, what they are saying, and judgements as to their behavior, appropriate or not.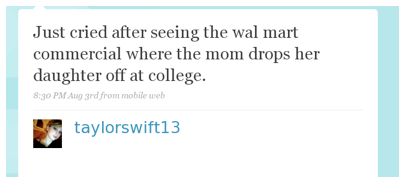 When Taylor tweets about crying after seeing a Walmart commercial, how much can her fans believe they are getting Taylor Swift the sensitive music artist, not Taylor Swift, Inc., the mega-brand business with a sales relationship with Walmart.
"I go to Wal-Mart all the time.  The one in my hometown of Hendersonville, Tenn., is open 24 hours, so I go there a lot to buy DVDs and stuff like that."

 — Taylor Swift, on the launch of her dress line with Walmart
At what point, if any, do Taylor Swift fans start wondering if the music is heartfelt, or just a means to a financial end?
OTHER MUSIC ARTISTS ACCUSED OF SELLING-OUT
Back in the 1960's, The Rolling Stones were the counterculture, in your face, naughty, rock and blues band.  But in 1995, beginning with the license of their hit song, "Start Me Up", for use in Microsoft's launch of Windows 95 massive advertising campaign, the band effectively lost whatever street cred was left in their aging tanks.
The selling out of heavy metal crazy, Ozzy Osbourne, the man who once bit the head off of a live bat on stage, started with his family reality show and continued downhill as he placed his mumbling self into ads for any product that would show him the money.
More recently, artists such as Moby had rocket-rise careers literally crushed when their hit music started showing up in a massive number of television commercials, so much so that many initial Moby fans started wondering if Moby's next album would be a work of musical innovation, or just a platform to sell more consumer products.
Contemporary music artists such as Avril Lavigne and Black Eyed Peas are seen today as sell-outs on their counterculture roots, thanks to tying their their faces and their music to name brands such as Pepsi, DirecTV, Doritos, and Cannon (with Avril directly tying her face to ProActiv acne cleanser).
THE FUTURE IDENTITY OF TAYLOR SWIFT
Certainly, Taylor's immediate future will hold even more success, both on the music front and the commercial appeal of her brand name and image.  Dollars will continue to roll-in.
Taylor herself cites Dolly Parton, Patsy Cline, and The Dixie Chicks as some of her strongest musical influences as a child.  While a number of long-standing country and pop music artists have certainly been involved with commercial enterprises through the years, the one constant remains the ability of their fans to trust their underlying integrity and soul in their music.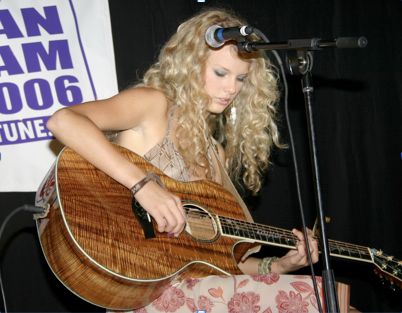 Whether or not Taylor Swift can make the complete and difficult journey from mega-brand back to thoughtful music artist will likely define whether or not she has forty more years as a top name in music, or just four.