Selected Entries From Matthew McConaughey's Abstinence Survival Journal
In the face of crisis, most celebrities will cower behind their makeshift wall of Prada accessories, waiting for their personal assistants to bring blankets and macrobiotic finger sandwiches. Not The McConaughey. He's made of tougher stuff. We think.
It was revealed this week that The McConaughey's partner, Camila Alves, has declared there is to be no sex between the two for 40 days following the recent birth of the couple's daughter and second child, Vida.
Rather than run to his bungalow for a bongo-beating, pot-smoking pity party, The McConaughey convened a rapid response team of crisis specialists including his piloxing instructor, his African drumming mentor, and the family dog — Queenie. The goal: find a way for The McConaughey to survive this ultimate trial.
The McConaughey has been kind enough to share with Celebuzz his Abstinence Survival Journal, bits and pieces of we are able to re-post here for readers to track The McConaughey's desperate journey into uncharted territory.
Day 6 ~

McConaughey sought out the advice of his yoga instructor on potential methods for the lonely man to find some level of meaningful satisfaction.
Sadly, stretch as he may, McConaughey's efforts fell short and his ingenius plan entirely thwarted.
Day 11 ~

McConaughey realized that this was as much a spiritual journey as a physical endurance test, so he set about to find a portal to the world of light and answers.
The day included swallowing and passing a hemp rope through the entire length of his digestive track.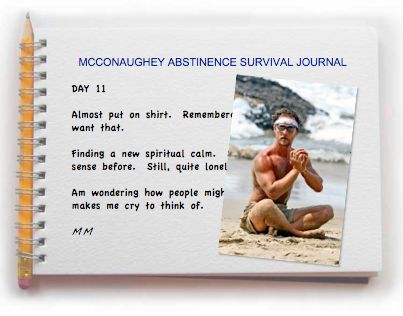 Day 17 ~

The McConaughey's isolated spiritual journey proved too difficult as he called on his broheims to surround him in a masculine cocoon of support.
Still, it's clear that The McConaughey was becoming quite distraught and even agitated as his tribulation continued into its third week.
Day 21 ~

The McConaughey is facing the real potential of cracking under the pressure of abstinence for now three weeks, in a row no less.  The dearth of intimate pleasure is causing several of The McConaughy's vital organs to slow or even shut down, and his mental state is becoming quite in doubt.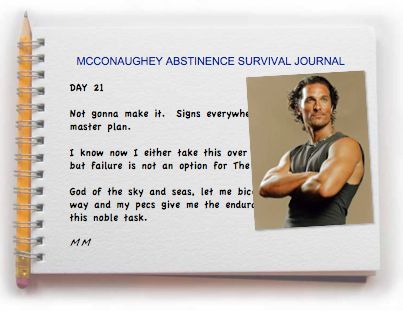 DAY 26 ~

Clearly, things are not going well.  The McConaughey is seen around town with the unshakable grin of a man going quite mad.
Kelly Slater and a number of other surfing friends attempted an intervention, but The McConaughey accused them of being pod people and fled on his jet ski toward Catalina.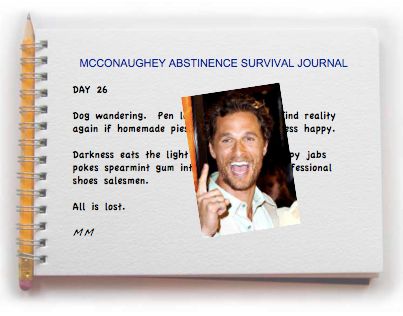 With fourteen days left to go in his torturous journey, we have to wonder if The McConaughey is truly going to survive this personal hell.
Stay tuned…