Humpday Roundup: Jason Segel and Russell Brand — Are They or Aren't They?
For many, Humpday signifies the middle of the workweek, when we're exactly halfway between the memories (and mistakes) we made last weekend and the ones we'll make next. But here at Celebuzz, Humpday means that Colin Goldman, our resident Celebrity Hookup Enthusiast (who actually knows next to nothing about legit celebrity love news) sets his mind to wondering — Are They or Aren't They?
Today's edition of Humpday Roundup salutes the same-sex kiss, and the questions that arise in the wake of these man-man, woman-woman, lip smacking salutations.
He, the A-list funny man with a Canadian bone.  He, the young Obi Wan of Star Wars.  Jim Carrey and Ewan McGregor shared a passionate mum-mum this past week following a ceremony in France in which they were knighted for being funny actors or something.  Now, I may know nothing about French etiquette, but I do know something about French kissing.  And that ain't it.  That's a "I'm off to work, but really off to go see somebody else behind your back" kiss.  That's the kind of kiss John Travolta has been giving to his male associates for years now and that couldn't possibly be anything but super innocent, right?  Right????
Verdict:  Just two knights in white satin happy to see each other.
Jared Leto's scorching blue eyes penetrated Bam Margera private half-pipe as the two hugged it out in front of the Katsuya Restaurant in Hollywood, CA (see actual hug by clicking here!).  Now, some dudes like to hug.  They just do.  In the circle of masculinity, they are known as cuddly wuddly wook at da wittle bear men.  But this hardly implies any type of romantic badda-binging.  On the other hand, the man-man hug would be quite natural among two men enjoying the forbidden fruits of their forbidden passion.  So, in short, the hug means nothing.  Now, sharing sushi cones with another man, that's an entirely different story.
Verdict:  Just broheims.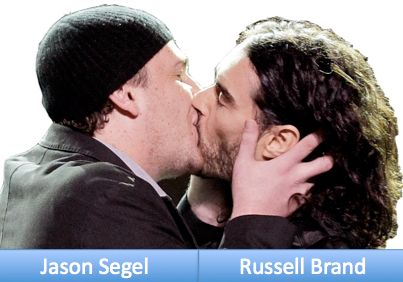 What is it about charity events for Haiti that seem to arouse even the most frigid of souls?  At last nights latest fundraiser for the distressed Caribbean nation, Jason Segel, star of many Jason Segel projects, and Rusell Brand, star of getting engaged to Katy Perry, locked their open maws in a passioned-filled game of "Who's Still Got Tonsils?"  After they unlocked, Segel was quick to point out to all assembled that he really dug chicks, while Brand pointed out that he really dug attention, of any kind, from anybody.  Was this kiss more than just a Port-Au-Prince peck?  Are these two self-described comic geniuses penning punchlines in their morning robes over a cup of Folgers?
Verdict:  Light caressing and whispers in the dark, but no humping.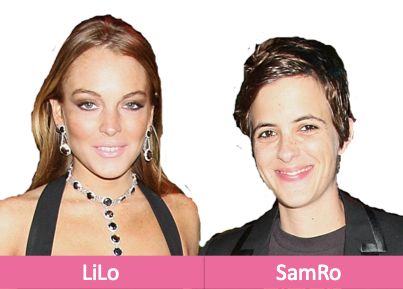 She, the half-baked ginger snap with her mind on her honey and her honey on her mind.  She, the round-round-go-down-spin-me-like-a-record-baby-go-down heiress who threw it all away for Sapphic passions and DJ action.  Like tequila and even more tequila, Lindsay Lohan and Sam Ronson just seem destined to be together, late at night, in bars, where shady hookups is more than just the name of the VIP upstairs lounge.  These former bump birds were spotted together at Adam Lambert's recent birthday party, curtsying like debauched debutantes to the God of all things booze and late-nite goodness.  Does this mean humpday hookup or just two good old girls back in the saddle for a platonic rodeo and a Cuervo smile.
Verdict:  "Hey, Lindsay, what are you doing here?"  "Hey, Sam, not much."  "Wanna hump?"  "Sure, why not."  "Alley?"  "Yep."