Our 5 Best Guesses As To What Might Be Under Brad Pitt's Hat
Whatcha got up there in your hat, Mr. Brad Pitt? There's got to be a reason for this man to be wearing so many different hats out to, well, to everywhere he goes.  Dr. Seuss characters were never so committed to their head-wear.
Through the combination of the powerful Celebuzz super-computer and pure, mind-altered, random guesses, we've assembled a list of….
OUR FIVE BEST GUESSES AS TO WHAT'S HIDING UNDER BRAD PITT'S HATS
1.  Angelina's Latest Shopping Spree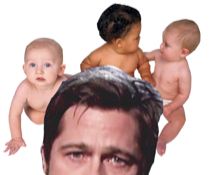 What with immigration and customs services around the world cracking down on jet-setting baby-hunters like Madonna and Angelina airdropping into their sovereign nations and swiping up a baby, or two, or ten, Brad's gotten a job worse than holding the purse — hiding the infants under his hat.
2.  Jen Aniston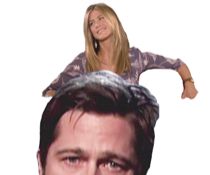 Poor, Jen.  So many rumored boyfriends, so little time to fake love-dovey shots for the paparazzi.  Let's be honest, she still clings to Brad like a baby chimp does to its mother.  So much so that she's now living in Brad's hair, a scandal the actor keeps from the press through the cover of his omnipresent headgear.
3   Rainy Day Fund
Through all the gossip-mongering, difficult women, and soured relationships, Brad consoles himself with the knowledge that at any moment, at any time, he can slip away with the million dollars he keeps stashed under his hat.
4.  Lindsay Lohan's Car Keys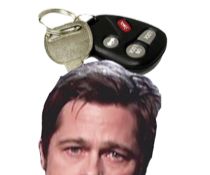 Smart thinking, Brad.
5.  Heidi Montag's Original Face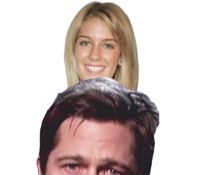 Brad Pitt is a man who recognizes the importance of documenting history, for the next generation, for science.  To this end, Brad entered into a secretive agreement with plastic surgeons to preserve the original face of Heidi Montag.  Sadly, no museum would have it, so it remains hidden away beneath Brad's skull caps.