Celebrity Stalkers: The Price of Fame
As glamorous as fame may seem, there are many downsides to the life of celebrity: anxiety and stress that can often lead to drug addiction and eating disorders; financial swindlers (sometimes in the form of friends or family) are always on the attack; and, of course, the dreaded celebrity stalker.
Completely distinct from die-hard fans, the celebrity stalker is typically a mentally-disturbed individual who becomes attached to a public figure for inexplicable and unpredictable reasons, often believing in their own mind that they have a secret relationship with the the target of their "affection".  The threats from these unbalanced individuals can range from the somewhat wacky, such as the disturbed woman who moved herself into David Letterman's Connecticut home, to the murderous, as in the 1989 case of Robert John Bardo, the stalker and killer of Rebecca Shaeffer, the 21-year-old co-star of the TV show, My Sister, Sam.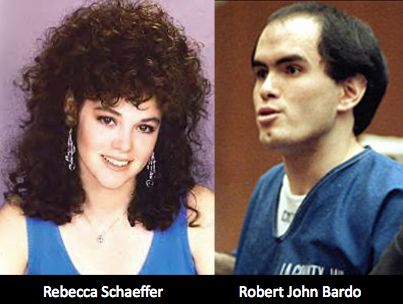 (Often regarded as the most famous stalker killing, Mark David Chapman tracked John Lennon for two months before shooting and killing the former Beatle outside of his apartment building on the night of December 8, 1980.)
Stories of celebrities dealing with their stalkers are a constant source of entertainment news. Four recent celebrity cases bring to light an often underrepported, but constant, problem in the lives of most prominent celebrities:
Leona Lewis, a former waitress at Pizza Hut, became a music world sensation after winning the Simon Cowell produced British talent show, X-Factor in 2006.  
Since that time, the sultry pop star has seen her career shoot to the top, along with record sales, hit music videos, and an autobiography, Dreams, the very book she was signing on October 12, 2009, when a deranged man at a London-area bookstore walked to the front of the autograph line and suddenly swung his fist and punched Leona in the face.
There was very little that could be done to prevent the attack, completely unexpected at a book signing event.  The incident reveals the omnipresent danger felt by many celebrities, and, often, the related sense of fear and insecurity they feel on a personal, physical level.  As a result of this attack, and other related public incidents, Leona Lewis' continues to experience anxiety and shields herself from the world behind a large bodyguard.
Reality star, Kim Kardashian has been dealing with a frightening individual for the past six months.  Dennis Shaun Bowman, a 25-year old man from Georgia, began contacting Kardashian via Twitter about six months ago, with indications that he believed the two were involved in a romantic relationship.  At the same time, Bowman began sending threatening messages to long time Kardashian boyfriend, Reggie Bush, of the New Orleans Saints.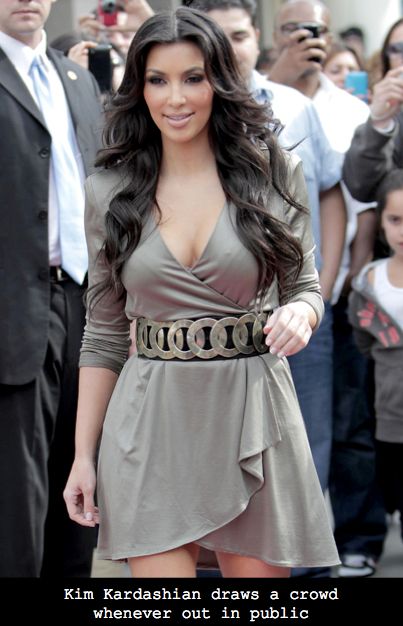 What began as an on-line stalking quickly turned more serious as Bowman moved from Georgia to Los Angeles to be in proximity of Kardashian.  Immediately thereafter, he began showing up to her public events, dressed in the guise of the Heath Ledger's "Joker" character from the latest Batman film, demanding to see Kardashian.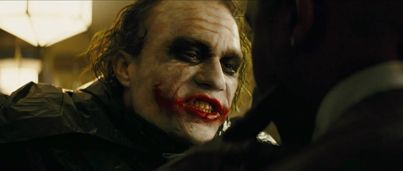 Imagine the creep out factor on that image.
Kardashian has since successfully filed restraining orders against Bowman, all that really can be done in these situations, prior to any physical attack, that requires Bowman to keep a certain distance from Kardashian and to not contact her via the Internet.
"Kimberly Kardashian does not know Mr Bowman. Mr Bowman is a delusional fan who has been stalking and harassing Ms Kardashian since at least October 2009.  He has refused to cease contacting her despite demands from the LAPD and Ms Kardashian's attorneys.(…)  Ms. Kardashian is extremely frightened by Bowman because he is obsessed with her and is extremely delusional."

    — Jeremiah Reynolds, attorney for Kim Kardashian.
Still, this does little to reduce the fear knowing that such a man is loose on the streets.  As a result, during Kardashian's recent visit to Miami for the Super Bowl, she traveled with a team of security guards and reports are that she also retained an armored limousine for personal protection.
Unlike non-celebrity stalkers, those obsessed with the high profile individuals seem to be evenly split between men and women as their targets.  Case in point, Ryan Seacrest. 
"His aggressive and violent efforts to come into physical contact with me are extremely frightening to me," Seacrest wrote in a declaration for the restraining order Friday. "They have jeopardized not only my personal safety, but also the safety and well-being of those around me."

 – Ryan Seacrest, excerpted from his statement in restraining order request
In September of 2009, Chidi Benjamin Uzomah Jr., a Sergeant in the U.S. Army Reserve, attacked one of Ryan Seacrest's bodyguards while attempting to personally meet Seacrest after a public appearance in Orange County, California.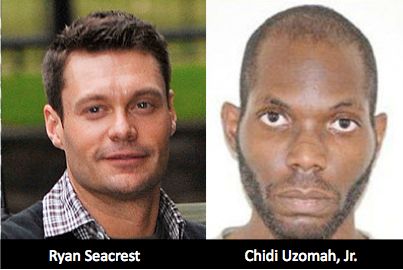 Shortly after serving 15 days in jail for the altercation, Uzomah visited the E! Television Studios, carrying a knife, attempting to see Seacrest again, this time at his offices on the television lot.  Uzomah was recognized by security guards and immediately subdued and held for police.  Uzomah has plead not guilty to the charges stemming from this second aborted attack, facing four years in prison if convicted on all counts.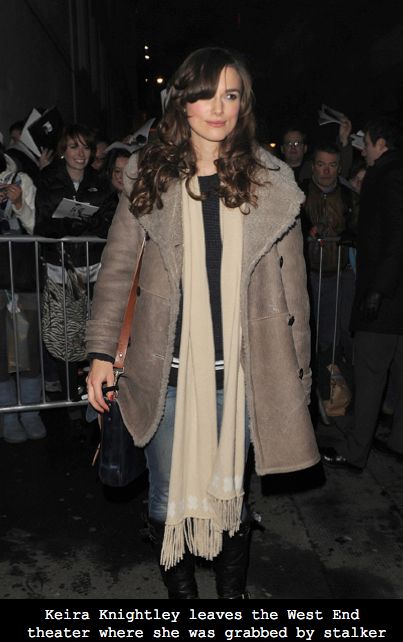 After sending the British actress numerous gifts and letters, Mariek Daniluk, an immense-sized  Polish immigrant living in London, decided to take matters one step further.
Daniluk waited outside the theater where Knightley was performing in the stage play, "Misanthrope" and grabbed her arm forcefully as she passed by upon her exit.  He was immediately arrested by police who had been alerted to Daniluk's suspicious behavior by fans in the crowd.
As reported by Celebuzz earlier this week, Daniluk is merely the latest in a long line of stalkers that has plagued the actress-star of the Pirates of the Caribbean movie trilogy.  Though often performing in the U.K., the actress has previously relocated her permanent residence to the United States, citing concern for her public safety in her home country.
* * * * * * *
These four recent stories represent but a sampling of the onslaught of written, verbal, and even physical attacks by mentally-disturbed individuals upon celebrities and famous public figures.  For the celebrity, it's a near certain, and near constant, part of the routine of life.  Short of changing careers and withdrawing completely from public life, there's no way to prevent it.
It's the price of fame.