Humpday Roundup: Reese Witherspoon and Her Agent — Are They or Aren't They?
For many, Humpday signifies the middle of the workweek, when we're exactly halfway between the memories (and mistakes) we made last weekend and the ones we'll make next. But here at Celebuzz, Humpday means that Colin Goldman, our resident Celebrity Hookup Enthusiast (who actually knows next to nothing about legit celebrity love news) sets his mind to wondering — Are They or Aren't They?
Today's edition of Humpday Roundup salutes Valentine's Day, and all the expectations, romance, love making, disappointments and regrets that come with the beloved annual Greeting Card event.
Let's be perfectly clear about this.  Jennifer Aniston is dating…nobody.  Her list of hookups is…nobody.  In the morning, she wakes up in bed, rolls over with a big smile, and says, "you were amazing" to…nobody.  Jennifer Aniston's publicity machine would have you believe that, since her "thank you, have a nice life" breakup at the hands of Brad Pitt, that this ex-Friends star has been romancing up a storm with the world's leading celebrity hunks.  This is patently false.  A Tinsel Town smokescreen.  A Rock Hudson gambit.  A ruse made of whipped cream and organic apricot jelly (mmm.)  Here's how you know Jen is not right this minute between the sheets with her Bounty Hunter co-star and 300-pieces of hunk, Gerard Butler — because her P.R. team insists that she is.  
Verdict:  No, no, no, no, no, no.
She, the knee-high bronze statuette of shoreline sassiness.  He…actually no idea who he is.  A gym trainer dude she met on Facebook I think.  Nevertheless, he's a git-down Latin man with unquestionable pecs and solarific sunglasses.  For the girl who likes to party all day, take a short cat nap, maybe scarf down a Sbarro slice, then party all night, this represents a major step forward in her romantic maturation process.  Can this pocket rocket of Jersey-adjacent sunshine find true love in the HGH-infused arms of her New Haven knight in shining body oil?   Does Snooki's meteoric rise to the top of fame-ness have time for a pit stop of spit swapping and booty knockin'?
Verdict:  Can't spell "hookup" or "Snooki" without the ook.  Definitely humping.
With the milkman emotionally unavailable, seems Reese Witherspoon, the divorcee con gusto mucho, has locked and loaded her sights on talent agent, Jim Toth, a member of the very firm (CAA) that keeps poor Reese be-speckled in diamonds and pearls.  According to Toth, the dinner the two spent in Santa Monica this past week was nothing more than a professional engagement.  Of course, one must take into account the fact that Hollywood agents fall onto the honesty scale somewhere between street crack addicts and auto repair shop price quoters.  I'm far more apt to believe the ever reliable random fellow diner, who described the couple as "very flirtatious" and "very friendly".  Oh, man, flirtatious and friendly?  That's only four logical love-steps away from naked and naughty.
Verdict:  Too hard to believe that Reese would be loaning loins with a civilian, even one so well-connected.  Sorry daydream believers — they're just friends.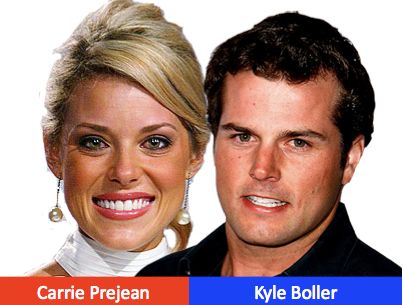 While all eyes were tuned to footballers in Miami this past weekend, the former Miss California, former good girl, former un-sex taped, Ms. Prejean managed to steal herself her own pigskin player in the form of Kyle Boller, quarterback for the St. Louis Rams.  Now, Ms. Prejean may not believe in gay marriage, but she's no dummy when it comes to locking down a wealthy athlete's hand.  Be mindful, Mr. Boller, good girls don't do bad things for free.  Sounds odd, but you might find it true.  The larger point — good on you, former Miss California, you done snagged yourself a man.
Verdict:  Once the ink is dry on a reasonable pre-nup…lights off, shades down, man on top, woman on bottom, in the missionary position.