Spencer Pratt-Inspired List of the Dumbest Possible Things One Celeb Could Say To Another
Men can be dumb sometimes, especially when it comes to knowing the right thing to say to their women. But one man you never expect to fall into the low-intelligence category is the scienfitical Spencer Pratt.
After wife Heidi Montag's countless array of surgeries, including liposuction, butt building, brow lift, chin shaving, Botox jabs all over the face, and fat injected into her cheeks, nose and lips, Spencer has decided that his favorite part of Heidi… her hair.
Her hair?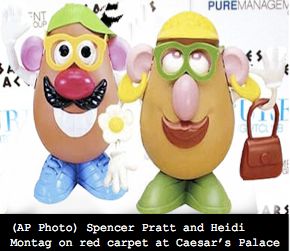 That has to rank as one of the all-time dumbest things ever said by a man to his woman, even a potato head like Spencer Pratt.
And, it got us to thinking, could any other celeb men possibly say even dumber things to their ladies?  We've come up with a few that might just match Spencer.
Gerard Butler to Jennifer Aniston
Who's hotter?  Me or Brad?  C'mon, be totally honest.
Blake Fielder-Civil to Amy Winehouse
You're so pretty when we're wasted.
Charlie Sheen to Brooke Mueller
You don't see me chasing other girls with knives, do you?  You're the only one for me.
Ben Affleck to Jennifer Garner
You've got a great figure, for a mom.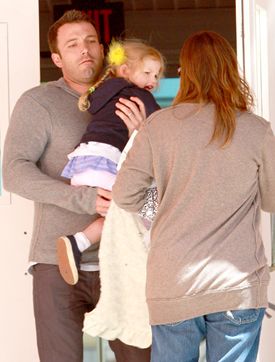 Brian Austin Green to Megan Fox
Don't think I can't do better than you!
Baby, let's put the past behind us.  The future is whatever….hang on a sec, I've got a text, I'll be right back.
It's not a put down, it's a compliment.  Think of all the good things napalm has done for this world.
Hank Baskett to Kendra Wilkinson
I loved your Valentine's list about me!  It totally made my girl-on-the-side cry when she read it.