Will Suri Cruise's $850 Handbag Set Off A Mad Rush Toward Celebrity Child Excess Oblivion?
So, Suri Cruise has a $850 handbag. Her entire wardrobe is said to be worth oodles and oodles of greenbacks. And while it would be easy to single out Suri as the only child of luxury and privilege among the celebrity jet set, this would be quite unfair.
The competition among wealthy celebrities to outdo their peers when it comes to spoiling the kids is quite extraordinary. Almost unbelievable, if you will.
As an unbelievable example, when celeb mom Denise Richards read of Suri's elaborate and wildly expensive designer couture, she couldn't stand the idea of being topped, so she bought daughter Sam Sheen a rare white lion cub.
(Note: actual white lion cub seen in photo is merely representative of white lion cubs and not actual white lion cub placed into a velvet-lined box and wrapped with a silver-leaf bow for a celebrity child's fifth birthday)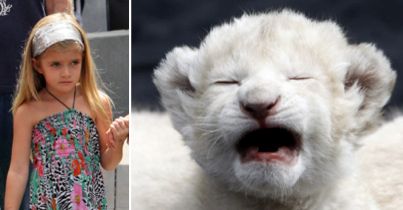 And, while Sam's albino lion cub was the talk of the elite celeb Kindergarten world for some time, you just knew the Jolie-Pitt's were not going to let it stand as best present ever. So Maddox's parents, who had bought him the much more standard gift of his first good sharp dagger for his seventh birthday, stepped it up a bit and bought their son a precious, Faberge Egg, designed originally for the Tsars and aristocrats of the Russian Empire.
And, don't you know, every kid in the celeb kid world was soon talking about wanting their own jewel-encrusted antique egg.  According to the reports of several tri-lingual nannies, there were numerous, and several ugly tantrum incidents surrounding the desire for a golden egg.
However, leave it to Donald Trump to figure out a way to make the golden egg nonsense but a distant memory, as he bought his latest offspring, Barron, his own, private, luxury jet.  The Gulfstream 450, loaded with every bit of leading edge avionics and fly-by-wire technologies that any toddler could ever need.  Barron can now breakfast in New York and dinner in St. Moritz, while still taking in a little skiing.
Shortly after Barron's plane arrived, you can imagine the pandemonium that arose in the celebrity kid world.  No longer were kids-sized Rolls Royces, rare breed ponies, and having the Jonas Brothers play at your birthday party acceptable tokens of parental love. 
The first casualty was Sam Sheen who insisted that her white lion cub was no longer special any more and held her breath until her mom made the arrangements with local zoologists to smuggle a baby condor to their home.
With less than a dozen such chicks in existence in the entire world, word of this gift quickly got around. Rumor has it that Barron broke out into tears on his private floor at Trump Tower and MJP ran over his antique golden egg with his gold-plated ATV.
And there was a moment of silence as all the celebrity parents huddled into a support group meeting to try to find some sanity to this nonstop escalation in spoiling of their children.  They all knew it had to end somewhere.  They all needed to find a plan to bring their kids expectations back down to earth.  And they were all there…except for Tom Cruise.
Because during this break, while nobody was looking, crafty Tom Cruise, who had previously set a new standard with a $200K gift and similarly priced christening party for his god kids, Emme and Max Anthony, went for the gold as he purchased the 700-room legendary Palace of Versailles for the twins second birthday.
GAME OVER.