5 Things You Should Know Going Into Jessica Simpson's New Reality Show
It's been five long, painful, torturous years since we feasted our voyeuristic peepers into the private life of our favorite Southern diva on her MTV reality show, Newlyweds, Nick and Jessica. Now, one divorce, eleventeen boyfriends, and three stone of weight later, Jessica Simpson will once again provide the world with a first-class ticket into the secret world of this stocky songstress with her new VH1 reality show, The Price of Beauty.
Jessica is already pimping her new show on her Twitter account, publishing pictures of expensive beauty wraps, revealing, the very price of beauty.  And while details of the new show have yet to emerge, there are five things we are quite certain you can expect from any Jessica Simpson reality show:
1.  Dumb Stuff Will Be Said
And it will be said by Jessica herself.  This is her show, and nobody's going to out-dumb Jessica on her own show.
2.  Meat Will Be Eaten
The girl loves her meat.  She likes to eat meat.  She likes to cook it.  She likes to bathe slowly in its fat and juices as they absorb into her bodily pores.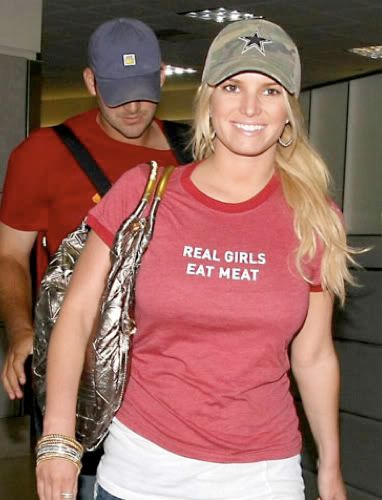 3.  John Mayer Will Say Something Ignorant.

Mostly, because he can't help himself.  Afterall, Jess is his "napalm" queen.
4.  Cleavage Will Be Shown
Just like Spring follows Winter and the moon follows the sun, you can count on bodacious boobaciousness on anything Jessica Simpson.
5.  Joe Simpson Will Crash Jessica's Makeup Parties
Because Joe Simpson likes to crash parties.  It's just his thing.  Well, also being that one dad on the block who wears leather pants, but this too.

Mark your calendars, America. Monday, March 15th. She's back!