Humpday Roundup: Gary Busey and Steffanie Sampson — Are They or Aren't They?
For many, Humpday signifies the middle of the workweek, when we're exactly halfway between the memories (and mistakes) we made last weekend and the ones we'll make next. But here at Celebuzz, Humpday means that Colin Goldman, our resident Celebrity Hookup Enthusiast (who actually knows next to nothing about legit celebrity love news) sets his mind to wondering — Are They or Aren't They?
Today's edition of Humpday Roundup salutes May-December Romance, that inter-generational bit of geezer-to-youngster booty slapping that often nauseates us, but always keeps our grey matter on "must see" mode.
He, the be-deviled British author with the bounty on his bald dome  She, the Top Chef temptress with the (until recently) bun up in the oven.  Salman and Padma are former spousal spooners, divorced, now, just friends, but hold tight, Humpday readers, because there's a mystery baby and everybody's wondering who stole the cookie from the cookie jar.  Could it be that these inter-generational, Parcheesi playing world travelers are back in the saddle again?  Does this new baby daddy drama involve a rekindling of May-December romp between 62-year old Rushdie and his 39-year old bit o' honey? 
Verdict:  The birds do it.  The bees do it.  Even educated fleas do it.  Definitely humping.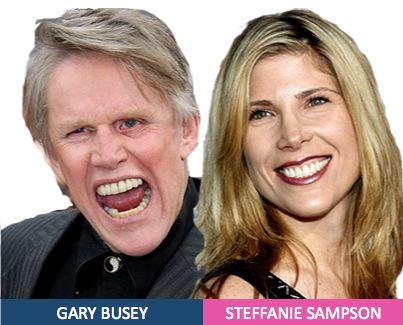 The thirty year age difference between Gary Busey and actress/girlfriend/baby mama Steffanie Sampson seems monumental, until you realize that age is just a number, and Busey lost all ability to compute figures several jugs of unfiltered moonshine ago.  Still, if there's anything May-December romances teach us, it's that beauty is in the eye of the beholder.  That love doesn't follow any precise rules of nature, let alone common decency.  Will you still need me, will you still feed me, when I'm Busey's age? 
Verdict:  C'mon, there's a baby.  Definitely humping.
Speaking of tri-decade–age-difference rekindled booty knocking, hey, look everybody, it's Madonna and Jesus, reportedly back together after their breakup just two moons ago.  This fifty-something cougar with the penchant for fresh-faced man meat keeps banging at the door of Jesus' parents house at midnight, drunk on peach wine coolers, and looking to score.  Just one man's opinion, but somebody needs to hose Granny down with a combo of Purell and decency.  Just because you can have any man in the world, doesn't mean you should have every man in the world. 
Verdict:  Too disturbed to contemplate the almost certain inevitability of humping.