The Anglo-American Celebrity Diva Exchange Program
In 2002, the United Nations launched a controversial trans-Atlantic exchange program for celebrity divas, wherein high-maintenance celeb queens would be relocated from the United States to the United Kingdom, and an equal number of divas would be renditioned to the U.S. Think of it as recycling, on a global diva level.
Recently, the U.N. launched its first comprehensive report on the performance of the Anglo-American Celebrity Diva Exchange Program, giving itself a general grade of "satisfactory, but still much work to go…".
Here are some of the highlights of the AACDEP Report:
The "Madge Problem"
The sometimes music artist and noted cradle-robber, Madonna, joined the program shortly into her long term relationship with British director, Guy Ritchie.  Madonna claimed that England was the more enlightened nation that offered her a chance for greater privacy and appreciation of her masterwork.  Initial reception to the Material Girl was mostly positive, with the locally-inspired name, "Madge" vested upon her.  However, the love affair quickly faded, beginning with Madonna's deep cover missions into the African continent to steal babies and quickly hitting a low point after the ugly divorce from Ritchie and the taking-up-relations with men young enough to enjoy her music.
Early in the afternoon of June 11th of 2007, the unnecessarily ugly Madge-Skeletor jokes began at the Hog's Head Pub in Liverpool.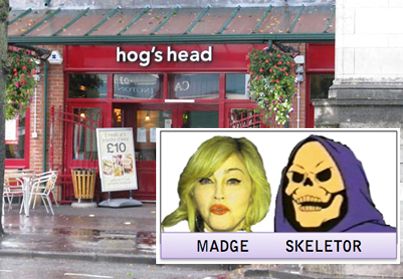 On last report, numerous British townsfolk had been gathering in evening meetings to discuss the "Madge Problem", with several locals in attendance brandishing pitchforks, torches, and plans to Madonna's castle.
Situation developing.
LiLo to London
As reported this morning by Celebuzz, Lindsay Lohan has committed to moving to the U.K. in order to find "better dj's" and to be "closer to Paris [France, not Hilton]".  While the AACDEP has already put the move into works, there are reports of unhappy factions within the British government erecting a LiLo proof wall mid-Atlantic to prevent her crossing.
Artist renderings of the "LiLo Wall" appear below.
It is hard to imagine Lilo working her way past this menacing bit of temptation.
Posh Refusing Nourishment
A full two years after her AACDEP relocation to the United States, Victoria Beckham continues her hunger struck, having refused all food and water, her only nourishment coming from occasional bites of her noteworthy foot bunions.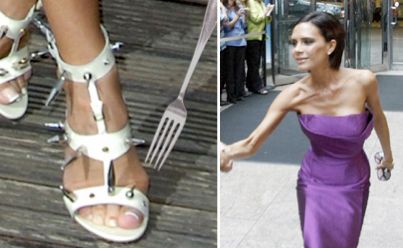 At Christmas time, 2008, celebrity chef, Wolfgang Puck, delivered a personally-cooked holiday goose to Victoria, begging her to just take a nibble.  Puck was sent away from the Beckham home with a goose drumstick forcibly lodged in his nethers.
AACDEP continues to search for food intervention methods for Posh.