Humpday Roundup: Renee Zelwegger and Not Bradley Cooper — Are They or Aren't They?
For many, Humpday signifies the middle of the workweek, when we're exactly halfway between the memories (and mistakes) we made last weekend and the ones we'll make next. But here at Celebuzz, Humpday means that Colin Goldman, our resident Celebrity Hookup Enthusiast (who actually knows next to nothing about legit celebrity love news) sets his mind to wondering — Are They or Aren't They?
Today's edition of Humpday Roundup salutes INTERNET RUMORED ROMANCES, those never-ending mentions of coupledom that invade every nook and cranny of the webisphere like a moist towelette leeches oil-absorbing cleansers into the microscopic pores of the skin.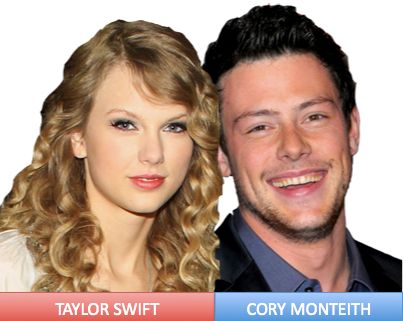 She, the deharmonizing songbird with a neverending well of "gosh" and "gollies".  He, the fanciful, footballing, Finn from hard-to-believe it's high school in Glee.  In the past year, Taylor's been rumored to on just about everything, except for on key.  There was the Nick Jonas "text breakup" breakup.  The Taylor Lautner "we never dated" breakup.  Now, another singing fool with a jazzy smile and questionably hip facial hair?  Are these two young crooners doing the deed whose name we dare not speak?  Are they making music in the rumpus room of their parents' finished basement?
Verdict: No nada nada.
Perhaps the most popular couple in the history of couples, if not all of mankind, including the time when men still had gills and swam in the ocean.  The Twilight Twinight, first stars I see tonight superheroes have been rumored to be romantically involved over and over and over again.  If they were real vampires, these rumors would literally going on for infinity.  But who knows for sure if these faux bloodsuckers are getting jiggy beneath the cape?  Who has the answer to the Robsten riddle?  I do!
Verdict:  Neck nibbling just for the cameras.  Just friends.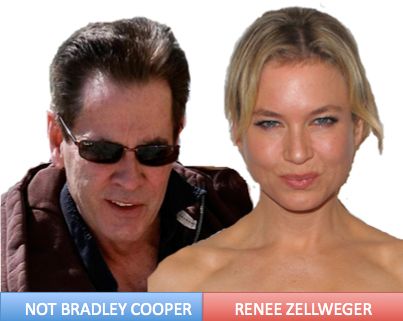 Since the moment Bradley Cooper scoffed at the notion of laying the ring on the finger of the Bridget Jones, Renee Zellweger has been spotted near daily with a new man outside her favorite Starbucks; this man not being Not Bradly Cooper.  Who is this bespectacled man with the "just say yes" attitude for the java?  Is he just a friend and what exactly are the benefits?  Is Not Bradley Cooper a respectable rebound for the original Bradley Cooper, or just a dude with the talent to hold four smoking hot double pumpkin cinnamon half-caf lattes on a single biodegradable cardboard tote?
Verdict:  Humping!  Suck on that, you stupid Bradley Cooper.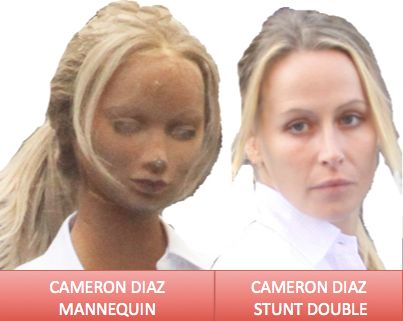 While filming Knight and Day, actress Cameron Diaz's stunt double had the somewhat awkward on-set introduction to Cameron Diaz's action scene mannequin, who some might say is just like a stunt double, only more fearless.  While Cameron Diaz's Stunt Double initially felt challenged by the presence of Cameron Diaz's mannequin on set, initial professional jealousy led to what some observers have described as an obscenely intense physical relationship that defy the foundations of good taste, in addition to several environmental regulations regarding the lawful use of plastics.  Still, at Humpday, we know that love knows no bounds, man-woman, woman-woman, man-man, stunt double-mannequin; we're all God's creatures.
Verdict:  Just cuddling in front of a good Netflix DVD.