Humpday Roundup: Eli Roth and Peaches Geldoff — Are They or Aren't They?
For many, Humpday signifies the middle of the workweek, when we're exactly halfway between the memories (and mistakes) we made last weekend and the ones we'll make next. But here at Celebuzz, Humpday means that Colin Goldman, our resident Celebrity Hookup Enthusiast (who actually knows next to nothing about legit celebrity love news) sets his mind to wondering — Are They or Aren't They?
Today's edition of Humpday Roundup salutes POST-OSCAR LOVE, those one-night-stands, two-night stands, and fifteen-minutes-behind-the-red-carpet-night-stands that are the true winners come Academy Awards late night.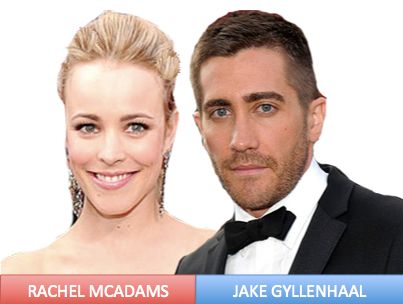 If I ran E-Harmony, question one on the applications would be: "Are you as hot as Rachel McAdams or Jake Gylenhaal?"  I suppose there'd need to be some lie detector aspect to the results, but the rare people who passed would be allowed to skip the next 150 chemistry questions and move directly to "perfect match".  Just look at these two specimens of human flesh.  Ridonkulous.  So no real surprise when it was rumored by rumor mongers who like to rumor things, that these two were joking, cavorting, and, yes, even canoodling at an apres-Oscar party on Sunday night.  In fact, Jake apparently joked that Rachel was the "future mother of his kids".  How future, Jake?   Like nine months post-Oscar night perhaps?  Oh, yes, perhaps.
Verdict:  Like butter on pancakes, melt, melt, melt.  This is where babies come from.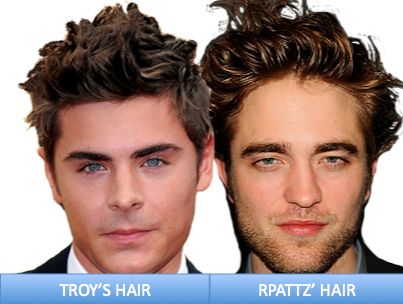 Troy Bolton won the State Championship for East High, I think, can't totally remember, still, amazing for even a fictional basketball player to get his hair so perfectly coiffed and moussed and tousled and teased and gelled and richified and so, damn RPattzian!   To approach the RPattz hair sculpt is to know God.  To fly to the sun on wings of Fructis Garnier.  To stare at True Beauty with your histamine swollen eyes and make True Beauty cry for what it can never be. Were these two floppy-mop tops ever to mate, the result could be hair so swaggeriffic that the earth would ceases to spin and Lindsay would quit drinking. 
Verdict:  The rules of physics don't apply in the land of awesome — these two do's are definitely doing it.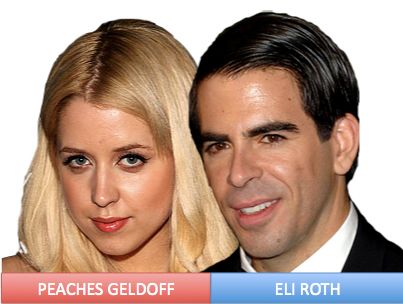 She, the spoiled young British prankster and heiress to the Boomtown Rats fortune.  He, the Inglorious Basterd with a penchant for torture porn and peppery pastrami.  Can this crazy, crass, May-December, post-Oscar party romantic sighting lead to something more than kissing and telling?  Is trans-Atlantic, cross-ethnic, inter-generational, opposite sides of the railroad booty knocking knocking at the door; and, if it is knocking, will somebody rise to let it in or just yell down from upstairs and tell it that the front door is already open?  Peaches Geldoff may be just twenty, but she's been around the block more times than a midtown Manhattan meter maid hungry to meet their quota and win that trip to Epcot.  Eli Roth calls Quentin Tarantino a mentor.  Just imagine the mind-blowing wrongness that could be the swamy soupy mess of this coital relationship.
Verdict:  Despite what every other quote unquote (are you supposed to write that out?) gossip columnists will tell you, I know with 99% certainty that there is no nookie going down between these two.  99% is pretty darn strong as far as predictions go, though, so, bank it.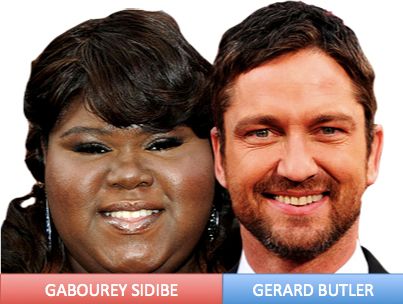 Who had a better Oscar experience than Gabourey Sidibe?  Okay, Sandra Bullock.  But besides Sandra, this Precious BBW rocked the otherwise tepid Academy Awards with a fierce giggle and a shameless wandering eye for man-tail.  When Gerard Butler strode by on the Red Carpet, Gabourey sized up the next future, fake, Mr. Jen Aniston and let the world know that she'd "hit it".  Girl likes her Scotch.  For his part, the bearded Highlander, not one to turn down a complimentary toss in the sack, suggested that maybe they should get a hotel room.  Dang, it was like watching two savage beasts on the savanna stalking each other in some semi-violent mating ritual.  I got all sweaty and such like I do when I see Paula Deen making a Coca-Cola basted ham on the Food Network. 
Verdict:  Nah, still, mighty fun to imagine.