4 Even Worse Coaching Jobs Than Charlie Sheen's "Sober Coach"
Chopping-Knife Chuck, aka, Charlie Sheen, is out of celebrity rehab and headed back to the set of Two and a Half Men to deliver some side-splitting comedy to the peoples of the world.  But Sheen's not headed there alone.  He will be accompanied on set by his "sober coach", a professional dedicated to keeping Chug-A-Lug-Charles on the straight and narrow.
My, what a krappy krappy job having to babysit Crack-Pipe-Charlie all day long.  
And, yet, as bad as being Shanking Sheen's sober coach, there are actually five even worse "coaching" jobs in Tinsel Town:
1.  Lindsay Lohan's "GIGGLE COACH"
You're Lindsay "LiLo" Lohan, you can't giggle when asked questions about your sex life.  Are the questions rude, crude, and inappropriate?  Yes, but, you're the queen of rude, crude, and inappropriate.  MUST NOT GIGGLE.
2.  Lady Gaga's "LUGGAGE COACH"
Somebody's got to keep Lady Gaga down to 37 wardrobe trunks when she travels across oceans and continents to bring her gift of magical sing to the peoples of the world.   Imagine being the guy who has to confront Gaga, "Now, Lady, do we really need two lime-green, wearable Port-a-Pottys?"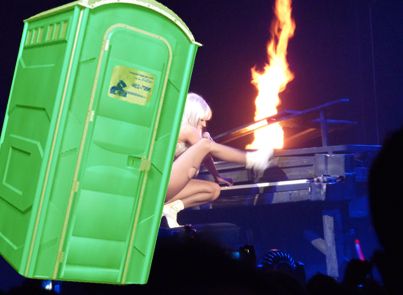 3.  Jessica Simpson's "BASIC ADDITION MATH COACH"
No comment.
4.  Kevin Jonas' "WE'RE GOING IN A DIFFERENT DIRECTION COACH"
Nick Jonas is starting up his solo career with The Administration backing him.  Joe Jonas seems destined for movie star fame, not to mention Demi Lovato duets.  So, who's going to tell Kevin Jonas that it's time to find a new day job? 
Step up, Coach.