Humpday BREAKUPS: Jesse James and Sandra Bullock — Are They or Aren't They?
For many, Humpday signifies the middle of the workweek, when we're exactly halfway between the memories (and mistakes) we made last weekend and the ones we'll make next. But here at Celebuzz, Humpday means that Colin Goldman, our resident Celebrity Hookup Enthusiast (who actually knows next to nothing about legit celebrity love news) sets his mind to wondering — Are They or Aren't They?
Today's edition of Humpday Roundup salutes BREAKUPS!  What the what the!??  Yep, that's right.  With so many couples rumored to be hitting the skids, there was simply not enough love going on this week to discuss the possibilities of love making, so we venture into the sad, sorrowful, grounds of the potential last days of once legendary romances.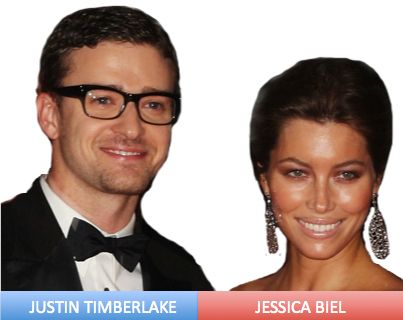 Who is spreading the vicious rumor that J&J are busting up?  Who is this highly unreliable, completely dastardly news source?  I can't say.  I'd go to jail to hide my network of heavy drinking rumor mongers, even Regan…oops.  Yet it all makes sense.  Despite the sickening and ongoing love affair between Jessica Biel and Justin Timberlake's mom, Lyn Harless (and, yeah, Beavis, her name is easy to misread as "hairless"), this power couple is definitely on the verge of Splitsville.  This Justin bit where he tries to make himself look nerdier and nerdier as his girlfriends get hotter and hotter is just downright annoying.  Put that shtick in a box already.  Jessica's been climbing mountains to save Mother Earth, and now it's time to save her dignity with the perma-walkaway from Justin.  Let's be real, does a relationship ever work out with a guy named, "Justin"?
Verdict:  It's over, and they don't even know it yet themselves.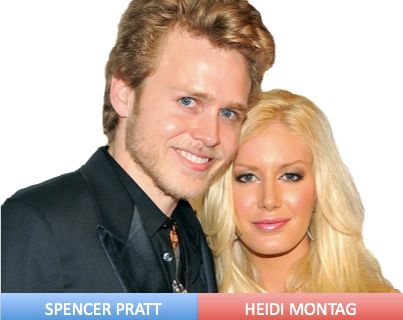 Yeah, I know.  Not since Diana and Charles have a couple so captured the imagination of the world.  But, could it be that these two babbling bozo blondes are about to seek an anullment to their civil union?  Could we see a breakup of the combined 127 IQ points that is Speidi?  Sources close to the couple, like maybe their maid, or garbage man, or the UPS guy who drops off Spencer's The Body Shop deliveries, say that Spencer Pratt is growing increasingly jealous of Heidi Montag's success as a music artist, actress, and fantasy object of the socially dysfunctional.  This would explain why Spencer's been making out with his dog and joining the cyber world galactic neighborhood watch, or something like that.  Meanwhile, Heidi's got her subltly arrayed antennae out looking for Mr. Montag 2.  Are we close to the end of a beautiful era or is this couple fated/doomed to spend eternity together in their wackadoodle bird cage?
Verdict:  Together forever.  For richer or poorer.  For dumb and dumber.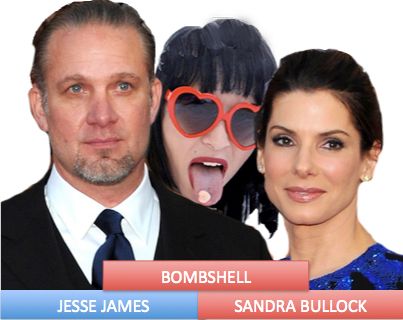 "Hey, Sandra Bullock, you've just won an Academy Award.  Where are you going now?" 
"I'm going to Tattooland!"  
That's right.  To murderize that tattoo model, Michelle "Bombshell" McGee who reportedly seduced away her man, Jesse James, with an irresistible combination of "sex" and "free" (the two most commonly searched words on Google, by the way — look it up!).  I'm not in the business of dispensing advice in this column, let alone any useful or even slightly insightful information, but I will tell you this — do not marry a man with a porn star notch on his bedpost (or, you know, a love child by way of porn star).  99% of men will never sleep with a porn star.  Of the 1% who do, 99% will do so more than once.  That's mathematical fact, learned to me in the school of hard knocks.  
Oh, Sandy, hug your Oscar tight tonight and wish it all away.
Verdict:  Vroom!  Vroom!  There goes Jesse.
No!   No!!!!!!!!!  Britney Spears and this dude who I didn't even know were dating were actually dating for a whole year and now they're no longer dating?   What strange hell is this?   Now that I know that Britney and Jason Trawick were an item, I'm crushed with the rumor that they may no longer be an item.  Of course, in Hollywood, dating your agent is the real world equivalent of dating your uncle, brother, or dad (or all three wrapped into one if your agent is halfway decent).  Incest, she is a tricky lover.  Still, if anybody can pull off this virtual taboo with a twist of the sublime, it's Britney, cause, you know, you can take the girl out of the swamplands, but you can't take the….you get the picture.
Verdict:  It's all-over but the tribute song with the background rhythm dancers.