Justin Bieber and The Mystery Girl — Are They or Aren't They?
For many, Humpday signifies the middle of the workweek, when we're exactly halfway between the memories (and mistakes) we made last weekend and the ones we'll make next. But here at Celebuzz, Humpday means that Colin Goldman, our resident Celebrity Hookup Enthusiast (who actually knows next to nothing about legit celebrity love news) sets his mind to wondering — Are They or Aren't They?
Today's edition of Humpday Roundup salutes COMPLETELY BOGUS RELATIONSHIP RUMORS!  Almost all Hollywood romantic rumors are absolutely ridiculous, you know, despite the large amount of unsafe sex taking place across this town, let alone in Lindsay's backseat. Still on the day before April Fool's Day, I feel compelled to dispel some of the more ridiculous rumors, because, God knows, I'm responsible for at least half of them myself. 
Reggie Bush, the handsome student athlete, minus the student part, turned successful pro athlete and media personality, minus the personality.  Rumors are flying around Tinsel Town that Reggie was scrambling downfield on an L.A. cocktail waitress named January Gessert while he was still in the official arms of beloved reality TV icon girlfriend, Kim Kardashian.  Let's face it, cocktail waitresses have gotten a bad rap since the Tiger Woods affairs have come to light, and/or, since cocktail waitresses started bedding down with their rich and celebrity patrons, so, pretty much since the very invention of the cocktail waitress job itself.  Still, everybody denies this lurid and baseless story, including Ms. Gessert herself, who was so moved to clear her name, she hired the legal guardian of all things female-sex-scandal-related, Gloria Allred, aka, The Devil's Taint.  
At this point, you ought be asking yourself mostly, why the heck is there a picture of Rachel Ray next to Reggie?   Because she is somebody he actually was baking cookies with.
Verdict:  Reggie and Kim have parted on good terms with no relationship skeletons in the closet.  At least none that I could find, after looking through their closets pretty intently while they were on vacation.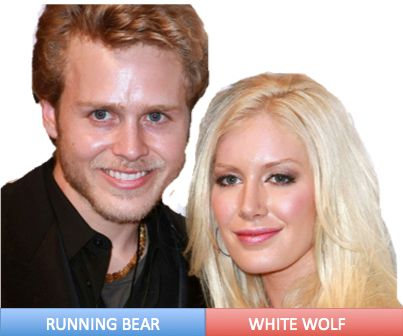 Spencer Pratt and Heidi Montag have taken native-American names to confirm the fact they're the noxious combination of both bored and crazy.  Running Bear and White Wolf have been rumored repeatedly to be on the rocks, despite their constant protests to the contrary.  But who really knows what goes on behind the closed doors of the matrimonial boudoir?  Well, I do.  And, I can tell you with almost near half-certainty, that these two cuckoo birds remain quite the strong couple and have years and years of inane and pointless joint-experiences left in them.  Their body parts may be changing, but their love will never wane.
Verdict:  Speidi lives!  Seriously, who else would have either of them?
Every girl in this country imagines themselves getting jiggy with eager Justin Bieber.  He's like a blankie to a baby, a Ken doll for a Barbie, a warm wet bath of joy to the parched and soiled among us.  Something like that.  So, every time Bieber is photographed anywhere, at any time, with any one of the female persuasion, rumors immediately fly that the Bieber flower has been plucked.  That Justinnocence has been lost for all eternity.  It's downright insane.  And, as a matter of fact, entirely untrue.  Take for example, this latest photographic evidence of Bieber with Mystery Girl.  I'm told by sources close to the swaggeriffic teen idol that the unknown female flying her flag within the Bieber restricted zone is some chick related to "Scooter".  Now, I may not know who the heck Scooter is, I mean, other than the proverbial kid who gets picked on on the school playground by girls half his size, but I know one thing just by looking into the Bieber eyes — the honey remains fresh.  I repeat, the honey remains fresh.  
Verdict:  Carry on your fanciful fantasies of being first to fluff Mr. Adorable, girls of America, the possibility continues.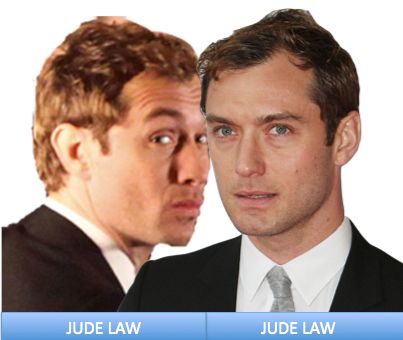 Let's be honest, I know crapola about affaires de couer.  You know, good and bad romance.  But I do know hair plugs, and you're not fooling me, Jude Law, you've got new ground cover where fur doesn't naturally reappear.  Hair doesn't come and go like the seasonal trees in New England.  There's no rash of baldness followed by a beautiful burst of new orange and red hair so spectacular, that senior citizens trek on buses 200 miles just to see it's fabulousness each transition in and out of arboreal hibernation.  You've been flashing your membership card at the Hair Club for Men quite a bit lately, haven't you, Mr. Law?  
Personally, my main interest in this relationship between Jude and the dude who's planted fresh rows of hair babies into his scalp like so many rows of corn across an Iowa grow square is just honesty.  It's the key to successful relationships.  
Verdict:  I have no idea what Jude's hairy situation has to do with romantic hookups, still, it's fun to bust dudes with such obvious plugs.