The 2015 Grammy Awards As Told In GIFs
Check out the Grammy's as told in GIFs for all you really need to know.
The best part of the Grammy's happened on the red carpet before the show even started, and it was this:
Lady Gaga DGAF about Giuliana Rancic.

Nicki Minaj knew she looked great:

Like, really great:

Gaga is all about her boobs (and so are we):

Kanye West made Kim Kardashian laugh at his joke:

Haim loves music (re: Tom Jones and Jessie J):

Taylor Swift and her date really want you to know they love music too:

Lady Gaga totally fan girl'd:

Ariana Grande was not at all a dramatic diva when she performed:

Rihanna restored our faith in music:

And was totally modest (and totally beautiful) about it:

Josh Duhamel tripped but recovered well in front of babelicious Patriots players Julian Edelman and Malcolm Butler:

Battle of the cute couples: Chrissy Teigen and John Legend?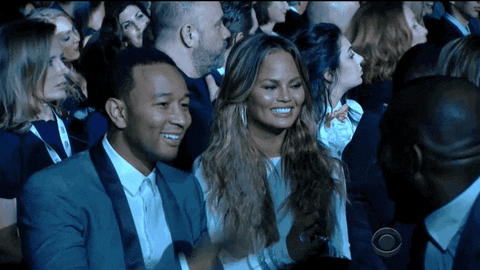 Or, Beyonce and Jay Z? (Shout out to Bey's shortie seat-filler who popped out from behind her!)

Pharrell got lost:

Paul McCartney got embarrassed when the camera caught him singing and dancing to Electric Light Orchestra and Ed Sheeran:

Kanye almost pulled a Kanye circa 2009 when Beck won Best Album, but then decided against it:

But OMG it looks like Kanye and Taylor made up!

Kristen Wiig basically won the Grammy's, performing in place of Sia (standing over there in the corner):

And Sam Smith made out like a bandit, winning all the awards.

That's all folks! (Because Beyonce says so).

ICYMI: the Grammy's were a, well, lackluster affair. But at least we have these GIF as entertaining takeaways from the night.