Well, that was quick...
Not even a week since they went public with their romance, Scott Disick and Sofia Richie have already hit a relationship milestone. The pair have been practically inseparable this month, and their latest night out together definitely proves that they are very serious about taking things to the next level. In fact, a telling photo recently leaked by a close confidant suggests Scott, 34, may be finally ready to settle down!
We wonder what Kourtney Kardashian will have to say about her ex's new 19-year-old girlfriend…
Moving Fast
Things are moving really fast for Scott Disick and Sofia Richie! Not even a week since they went public with their steamy romance, the new couple have already hit a relationship milestone worthy of a "congratulations" cake.
Soon after confirming dating rumors, the pair made things Instagram official by sharing photos of them packing major PDA during their trip to Miami. In the picture shared by Scott, 34, the Keeping Up with the Kardashians star can be nuzzling his 19-year-old girlfriend's neck while partying on a boat together.
Meanwhile, the young model posted a similar shot on her Instagram story with them posing with their arms around wrapped around each other.
Congratulations!
The two were also spotted sharing a steamy lip-lock over a candlelit dinner at Miami River hotspot Seaspice on Saturday. An insider told Celebuzz they arrived to the waterside restaurant around 6:30 p.m. by boat and "held and kissed" all night. Joined by 15 friends, the group sipped on champagne and Barceló rum cocktails as they dined on Meli Melo, truffle pizza, king crab legs, and octopus.
In a video shot by one of their close friends, Scott and Sofia shared a passionate kiss over a dessert on a plate on which the words "Congratulations Scott & Sophia" were written (the chef had unfortunately misspelled the name).
Naturally, fans started speculating that the congratulatory dessert was made to celebrate an engagement or — much like Kylie Jenner's recent bombshell — a pregnancy. One source told TMZ Scott has yet to propose, while another said the cake was the father-of-three's way of going official as boyfriend and girlfriend with his new flame.
Sofia, who is the youngest daughter of legendary singer Lionel Richie, later also shared a photo of the plate with the congratulatory message smudged out with what appeared to be chocolate ganache icing.
Pratically Inseparable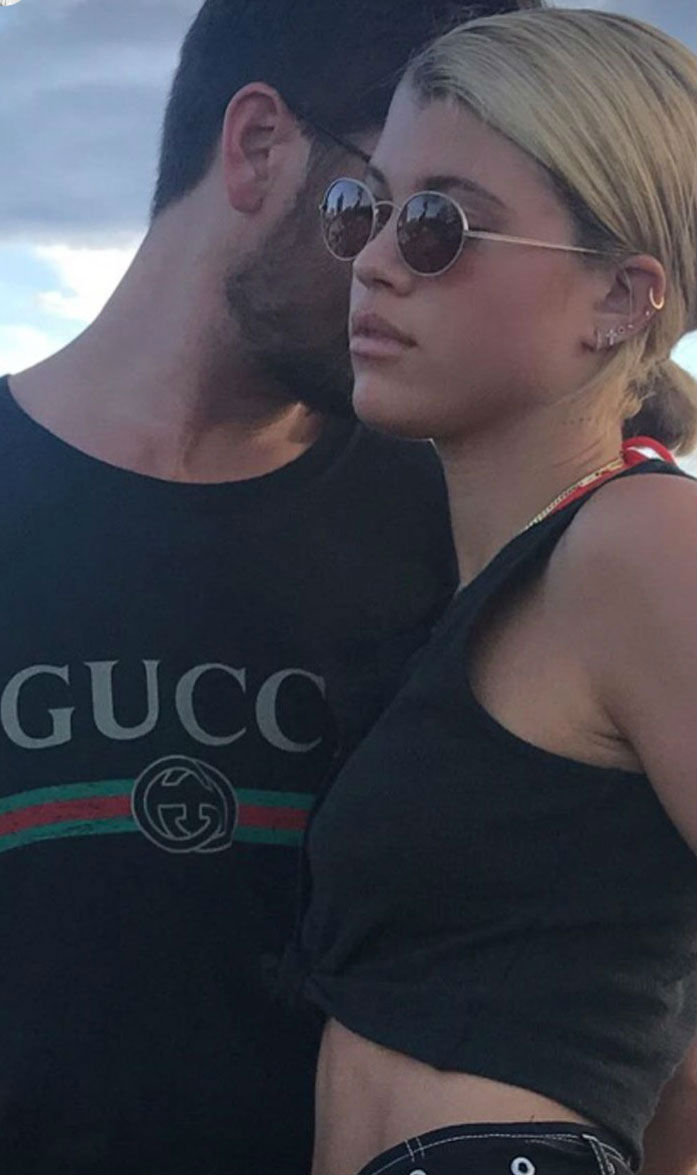 Despite their 15-year age difference, Scott and Sofia have been "practically inseparable these days," an insider told us.
"It's still fairly new and they're taking things slow," our source said, "Sofia is completely smitten with Scott."
The duo were first romantically linked in May when they were photographed "looking flirty" aboard a yacht in the French Riviera. At the time, Sofia refuted rumors she was dating the reality star. "Just so everyone can get their panties out of their asses, Scott and I are just homies," she tweeted. "#Relax."
They reignited romance rumors this fall when they were seen getting cozy on various dates around Los Angeles.